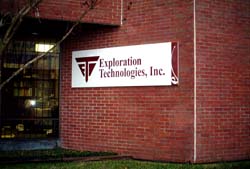 Exploration Technologies, Inc. (ETI), was founded in 1984 by Victor T. Jones, Ph.D., an internationally recognized leader in geochemistry. As Director of Geochemical Application for Gulf Research and Development Co. (Gulf Oil Co.) and President of ETI, Dr. Jones has more than three decades of experience in research, management, execution and interpretation of geochemical programs pertaining to petroleum, minerals and environmental applications.

Exploration Technologies, Inc. provides a full suite of professional and analytical services for surface and offshore geochemical prospecting. These services include on-site, on-board, and remote analytical laboratories, and collection methods for both land and marine studies. ETI provides the petroleum industry with integrated exploration geochemical sampling, analytical, and interpretative services worldwide.

The Exploration Technologies, Inc. staff of petroleum industry trained professionals have a cumulative base of experience in geochemical exploration encompassing more than one hundred (100) offshore and onshore basins. ETI has conducted geochemical surveys in the United States, and many International areas, including, South America, Africa, Europe, and the Far East.