BANK PROPERTY -FORMER SERVICE STATION SITE


Delineate the horizontal and vertical extent of subsurface contamination due to the release(s) of petroleum products on a former service station property.

A 43 sample site soil vapor survey was conducted to determine the horizontal extent of near surface petroleum product contamination. The soil vapor data was utilized as a drilling guide in order to determine the locations of soil borings/monitor wells.

Soil vapor analyses indicated the presence of extensive subsurface petroleum product contamination; off-site migration of these contaminants was indicated. The normal butane (a major component of gasoline) concentrations plume map shows the horizontal extent of the subsurface contamination. Subsequent drilling and monitor well installations confirmed the horizontal extent of contaminants; the soil core analyses indicated that the zone of highest contamination was present in the vadose zone at depths of between 6 and 8 feet below the ground surface.

The contoured total BTEX concentrations maps (utilizing soil sample analyses from the 6-8 foot depth interval) are virtually coincident with the soil gas (normal butane) plume map. The soil vapor plume maps accurately defined the horizontal extent of the subsurface contamination.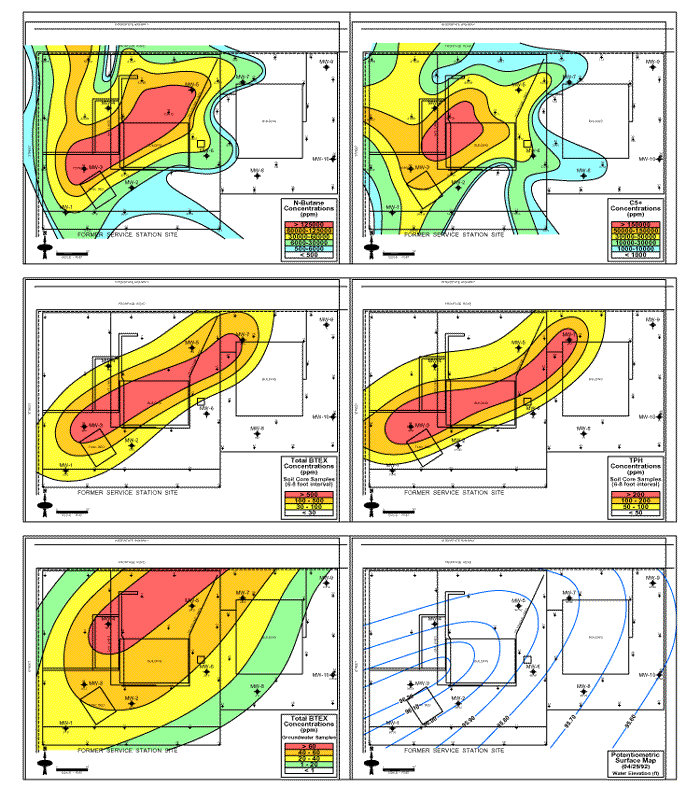 | Home | Exploration Geochemistry Services | Environmental Geochemistry Services |
©2002 Exploration Technologies, Inc.